Paddy Ryan
Education:
Honours High School Diploma, Music Award, Philemon Wright High School (Quebec)
Conservatiore de Musique de Quebec, 10 years music training
Carleton University (Ottawa)1981-1984: Honours Music program. Specialized studies in composition, orchestration, electro/acoustic and computer music.
Experience:
1999 - Present: President, Big P. Productions, Vancouver
Self owned and operated music and audio production company catering to musicians, film, television, and multimedia applications.  Also provides consulting in business development and telecommunications.
2003-2006: President, Vivoz Communications, Vancouver
Vivoz operates a subsidiary in Latin America providing PC based telecommunications systems and applications, specifically catering to the dating market.
1990-1999: Vice President Operations, Boulevard Media Inc. Vancouver (now Teligence)
Design, implementation, marketing and management of PC based telecommunications systems and applications, specifically catering to the "Voicepersonals" and "Chatline" markets. Oversaw the growth of the company from one market to 20, and revenues of $100/day to upwards of $60,000/day.
1988-1990: Technical and Production coordinator, Layout Artist, Normal Art Society, Vancouver
Producers of "Art on the Drive", "Commercial St. Arts Festival", NOISE (a monthly arts newspaper), and many performance and visual art events.
1986-1988: Sound Engineer/Technician, 20th Century Sound, London, UK
Provided PA systems and live technical services for venues in the London area, as well as fully equipped rehearsal facilities at our premises.
1984-1986, 1988: A/V Technician, Set Builder, Spec Tech, Ottawa, Ont
Provided stage lighting, audio, and set building to theaters, dance companies, trade shows, etc.. Also specialty building and AV installation services for various galleries, museums, festivals, etc.
1984-1986: Engineer/Producer (Owner/Operator), Good Egg Productions, Ottawa, Ont.
            Ran small recording studio out of our garage(!). Produced demos for various local bands, and soundtracks for theater and film.
Volunteer Positions:
Canadian Coast Guard Auxiliary:  Unit Leader, Unit 6, Richmond North. Providing Marine Search and Rescue Services. Currently on Board of Directors (Treasurer) of the Strait of Georgia Marine Rescue Society, which obtains funding and provides support to Auxiliary Six.
On The Cutting Edge Production Society:  Currently on Board of Directors and Treasurer
PITT Gallery, Vancouver:  Treasurer, and on Board of Directors, 1991-1993. Also extensive volunteer work as A/V Technician, Event Assistant, Gallery Sitter
Western Front, Vancouver:  AV and production assistance on several performance events.
Normal Art Society, Vancouver: Various volunteer positions in the early 1990's, reflecting my previous functions while employed there.
grunt gallery, Vancouver: Various stints with the planning committee, the New Media department., and Board of Directors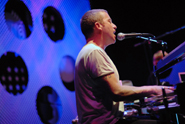 Live in NYC