Welcome to Big P Productions!
Big P Productions is a state of the art audio production facility. We focus on composing, arranging, recording and mixing music for recording artists, film, video, and advertising, as well as post-production sound editing. In addition, our network of industry professionals enables us to provide a one stop solution to all and any other media production requirements.
Services are guaranteed. We are not satisfied until you are! Please browse the site, check out some of the demos, and contact us with any inquiries!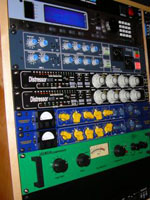 Studio Tour